by kirupa | 23 September 2006
In this page, I continue my explanation of manually adjusting the ClickOnce settings that I started explaining in the previous page.
Changing Publish Options (Product Name, etc.)
By default, the installation process doesn't contain any branding or similar information that you want to communicate to your users. You can change that via the Publish Options window which you can access by clicking the Options button from the Publish tab:
[ personalize your application via the Publish Options window ]
Notice that when you publish your application again with the above values filled out, you will notice some important changes. Your installation web page displays a link to your support page and the name of your product is no longer your Project Name:
[ notice that the default installer page now displays more relevant information ]
Second, your Start Menu folder name is different and you have an extra icon for help/support:
[ your start folder now looks different ]
These seem like pretty minor changes, but your users will definitely appreciate these changes - especially being able to know where to click to receive more help!
Specifying Application Prerequisites
For applications that use ClickOnce, the .NET framework is a pre-requisite for running any application deployed using ClickOnce. By default, your application automatically detects whether you have the .NET framework installed and automatically downloads the framework if you do not have it installed.
Sometimes, you may want to ensure that your users have certain other MS-specific downloads installed prior to running your program. You can specify those required files by going to the Publish tab and clicking on the Prerequisites button:
[ select the prerequisites that will automatically install on a user's computer ]
From the Prerequisites window, you can check which of the components you want to check/install before your application is installed. Note that checking the boxes does not mean your users will be forced to install the prerequisites. Many users already have the prerequisites as part of a standard Windows install, but checking the required options ensures that those who do not can easily download them without having to leave your site or application install screen.
---
Got a question or just want to chat? Comment below or drop by our forums (they are actually the same thing!) where a bunch of the friendliest people you'll ever run into will be happy to help you out!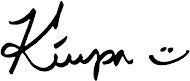 THE KIRUPA NEWSLETTER
Get cool tips, tricks, selfies, and more...personally hand-delivered to your inbox!
( View past issues for an idea of what you've been missing out on all this time! )