Have questions? Discuss this Web Development tutorial with others on the forums.
In this video tutorial, you will get a lightning fast overview of how to use Firebug to make working with CSS really easy. If you want to follow along, make sure you have both Firefox and Firebug installed.
Hit Play below to get the video rolling:
Going Further
Performing CSS-related actions is only one of the many tricks Firebug has up its sleeve. Stay tuned for subsequent videos where I will show some of the other features that will make your life simple.
If you have a question about this or any other topic, the easiest thing is to drop by our forums where a bunch of the friendliest people you'll ever run into will be happy to help you out!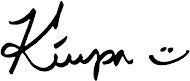 THE KIRUPA NEWSLETTER
Get cool tips, tricks, selfies, and more...personally hand-delivered to your inbox!
( View past issues for an idea of what you've been missing out on all this time! )
GOT A QUESTION?