No matter how well you write your JavaScript, given its scripty nature, mistakes will happen. The mistakes that you run into will often be subtle. A great time saver when trying to figure out why your JavaScript isn't working is the ability to set breakpoints and step through your code line by line. Firebug makes it very easy for you to do that, and in this video, I show you how.
Hit Play below to get get rolling:
Going Further (or Backwards?)
If you don't want to use breakpoints, you can always fall back to the old methods of using console.log or peppering alert() functions throughout your code.
If you have a question about this or any other topic, the easiest thing is to drop by our forums where a bunch of the friendliest people you'll ever run into will be happy to help you out!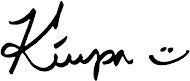 THE KIRUPA NEWSLETTER
Get cool tips, tricks, selfies, and more...personally hand-delivered to your inbox!
( View past issues for an idea of what you've been missing out on all this time! )
GOT A QUESTION?