Gelwin Miranda (excogitator)
---
If you have been following the contests on this site, Gelwin aka excogitator is one of those people you will always find at the top of the leaderboards. Below is an interview with him!
What's my profession?
I am a Designer and Developer. A few companies aside, I have worked for two Ad agencies, Ogilvy and Law & Kenneth.
In the 10 years of my career, I have spanned various roles from application development to web design to web games and RIA.
What is currently your favorite project/piece of work and why?
Mystical Orange Magic, an art design that I made for a contest here, back in 2009:
Many thanks to Kirupa for that contest. It inspired me to becoming a Digital artist today. Kirupa's home page says - Making Designers Better Developers. I became a better Designer.
What is your favorite movie and why?
Avatar. I loved the animations and the unbelievable blend of humans with CG characters so alive. Waiting for the sequels.
What is your favorite video game character and why?
Mario:
Brings back childhood memories. The electronic tunes were very catchy. It was pretty addictive too.
What/who are your sources of inspiration?
My design inspiration until they updated their site used to be thefwa.com (Flash Web Awards)
What is your programming language of choice, and what would
be one thing you would add/change to improve it?
AS3 is my language of choice. I'm still grasping it. If I would ask for improvisations....I don't mind flashplayer plugins going a little bulky, if it can help in performance. All the other plugins I presume are already quite bloated.
What is your design or development tool of choice, and what
would be one thing you would add/change to improve it?
Design tool of choice - Photoshop CS3. I wish it had some features from Illustrator to help me with my artworks.
If you had to be a dinosaur, which one would you want to be?
One that can fly.
What makes you motivated to wake up daily and go to work?
I'm a late sleeper so I wake up...... late. Generally up everyday till 3 am types. So I wake up at 12:00 pm.
How do you balance your personal life and work?
I take breaks only when my work is less or I have nothing else to do. Will head for movies or eateries. I am a foodie.
What was your first job?
A Foxpro programmer. Did an Internship for a year.
Do you feel your current job will be relevant in 5 years? Why?
I'm quite certain my current job will outlast 10 years unless everyone switched to sixth sense technology (Any flat surface can be a monitor and gestures can be used to interact with it). Cell phones are too varied to control, plus tiny and if people are comfortable with it becoming bigger and larger thats almost evolved into a mini laptop by then.
Either all those or 2012 will make my job irrelevant.
Do you believe a formal education is beneficial for the type of work that you do?
Only parts of it, since formal education is a combination of all areas. Everything I do deals mostly with planning, logic and math.
Can you share your most challenging interaction with a client?
I made around 5-7 demo web layouts for a client once, because he kept rejecting each one of them. Thats like a week gone waste.
When we finally met to understand the reasons. He said he didn't like the models photo that I used in all the layouts. That photo was given to us by the client himself. Nuts I tell you.
What manner of death would you prefer and why?
Probably a frozen one where climate drops as in the movie "The Day After Tomorrow". An Instant painless one.
If you had to pick a weapon to defend the world from space invaders, what would the weapon be?
Apple iNuke
Can you beat Chuck Norris?
Since he is quite old. I need another worthy opponent. Someone puny and weak.
How fast can you eat lunch while typing?
Very slowly!
---
I hope you all enjoyed this series of questions and answers, and thanks to Gelwin for answering them. To learn more about how all of this came about, read this forum thread where the idea of interviewing forum members came about.
Got a question or just want to chat? Comment below or drop by our forums (they are actually the same thing!) where a bunch of the friendliest people you'll ever run into will be happy to help you out!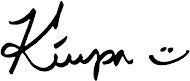 THE KIRUPA NEWSLETTER
Get cool tips, tricks, selfies, and more...personally hand-delivered to your inbox!
( View past issues for an idea of what you've been missing out on all this time! )