by kirupa | 17 December 2008
We are always looking for great tutorials to add to kirupa.com. This article is a compilation of answers to questions many of you have asked over the years regarding writing tutorials for this site.
First, if you are interested in submitting a tutorial, there is no template or sample files for you to download. Use whatever program you want to write a tutorial, but try to follow the content style that tutorials on this site use. In the past, users have submitted tutorials in Word documents, HTML files, plain-text files, etc.
You can e-mail tutorials to kirupa.at.kirupa.com.
Any tutorial you submit still belongs to you. You will get full credit for having written the work, and you are free to submit your tutorial to other sites without having to receive permission from anyone on this site.
The following guidelines should tips on writing good tutorials:
Plan Ahead
A good tutorial engages the reader by giving them a problem, having them create something meaningful that solves that problem, and more importantly, teaches the reader why the solution to the problem worked.
Provide a Good Introduction
Having a good introduction is very important. It helps both you and the reader to get a feel for what the tutorial is about and what to expect.
Create a Great Example
If you want the reader to be interested in your tutorial, try to create a great working example of what you are about to explain. The better looking your example, the more eager your reader will be to try to re-create the example based on instructions in your tutorial.
Keep Instructions Simple
More than likely, your tutorial will have the user follow a series of steps in order to create something interesting. Avoid introducing big-picture explanations, commentary, etc. during this part. You will have plenty of opportunities at the end of the tutorial to elaborate on details.
Explain Your Code
If your program involves coding, you must provide a good explanation of what each line/section of code in your program accomplishes. Your goal should be to help your reader to not only reproduce your steps, but to understand the reasoning behind your code.
Write Casually
Your readers are humans! Try to make your writing natural and more human-like. Be funny. A good tutorial is a conversation. It is not a page from a dictionary.
Use Images
Use images to enhance your explanations. Images help give a visual cue to an instruction you are providing, but they also help the reader to get a break from staring at text for a long time also!
Anticipate Problem Areas
When writing a tutorial and you feel that the user would be confused by a particular step, feel free to provide an explanation. A simple Note box helps inform the reader that what you are writing may not be directly relevant to the tutorial, but it may clear up any doubts the reader may have.
---
Got a question or just want to chat? Comment below or drop by our forums (they are actually the same thing!) where a bunch of the friendliest people you'll ever run into will be happy to help you out!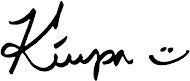 THE KIRUPA NEWSLETTER
Get cool tips, tricks, selfies, and more...personally hand-delivered to your inbox!
( View past issues for an idea of what you've been missing out on all this time! )