Creating Falling Snow on HTML Pages

NOTE:
This article is outdated. Please visit the Creating Falling Snow in HTML/JS tutorial instead.

Being a hardware/software fanatic, I was doing my daily rounds around popular computing sites checking up on the day's latest downloads. Because it was the holiday season, numerous sites had their layouts and graphics changed to reflect the holiday season. One site, WinDrivers.com, had something that I had never seen before in a Web site; falling snow that goes over text and other objects.

This effect is the same as the falling snow you saw in this page a moment earlier. Here's how to create this effect:
Open your HTML page that you wish to apply the falling snow effect to in Notepad or another HTML editor.

Find the section of code between your <body> and </body> tags. Copy and paste the code from the following box between your body ( <body> , </body> ) tags:
[ copy and paste the above code in your HTML page ]
Simply save the file and preview it in your browser (Internet Explorer preferably).
Conclusion
I'd like to thank Scott Hermanson of WinDrivers.com for being generous enough to answer my e-mail with the JavaScript file during the busy holiday season. If you haven't seen his site, be sure to point your browser to: http://www.windrivers.com
If you have a question about this or any other topic, the easiest thing is to drop by our forums where a bunch of the friendliest people you'll ever run into will be happy to help you out!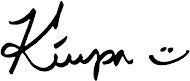 THE KIRUPA NEWSLETTER
Get cool tips, tricks, selfies, and more...personally hand-delivered to your inbox!
( View past issues for an idea of what you've been missing out on all this time! )